Incepand cu luna octombrie in stocul ASBIS Romania sunt disponibile noile portabile Acer Aspire 5552, Aspire 5553 (15.6 inch), Aspire 7551, Aspire 7552 (17.3 inch), cu o gama variata de procesoare AMD: X2 Dual Core – P340, P540, N350; X3 Triple Core – N830; X4 Quad Core – N930.

Noile configuratii sunt dotate atat cu placi video integrate (ATI Radeon HD 4250 Graphics with 256 MB), cat si cu placi video dedicate (ATI Mobility Radeon HD 5470 with 512 MB, ATI Mobility Radeon HD 5650 1GB), dar si o noutate in premiera Romania prima placa video cu 2GB memorie dedicata ATI Mobility Radeon HD 5650 2GB – DDR3 (128*16*8).

Toate notebook-urile sunt echipate cu HDD-uri de 320GB pana la 640GB, memorii de la 2GB la 4GB upgradabile la 8GB, unitate optica 8X DVD Super Multi double-layer, Card Reader 2in1 sau 5in1 acoperind cele mai comune medii de stocare SD, MMC, MS, MS PRO, xD.

Pe langa echiparile variate in functie de configuratie, dotarile standard includ: Acer Nplify 802.11b/g/n, Acer Crystal Eye webcam 1.3Mpx with 1280×1024 resolution; porturi: USB 2.0, HDMI port with HDCP support, VGA, RJ-45, TOUCHPAD (Multi-gesture touchpad, supporting two-finger scroll, pinch, rotate, flip), KEYBOARD (103-/104-/107-key Acer FineTip keyboard with independent standard numeric keypad, international language support).

Aspire 5552 si 5553 dispun de un ecran de 15.6 inch HD 16:9 cu o rezolutie de 1366×768 pixel, baterie de 6 cell (48.8 W4400 mAh), greutatea acestor modele cu baterie inclusa nedepasind 2.6 kg. Toate aceste caracteristici impreuna cu dimensiunile reduse ale acestor notebook-uri – 108 (latime) x 46 (lungime) x 29.5 (inaltime) mm – fac din aceste portabile un produs cu design atractiv pentru utilizarea de zi cu zi.

Ecranul de 17.3 inch HD+ 1600×900 pixel il gasim pe 2 noi platforme tot din seria Aspire 7751 si 7752, alaturi de noile procesoare AMD X3 Triple Core N830 sau X4 Quad Core N930, facand ca aceste masini sa atinga inalte performante grafice, utile gamerilor si nu numai.

Toate aceste dotari de exceptie completeaza noile modele de notebook gratie celor mai noi tehnologii prin care Acer ne-a obisnuit sa fie primul in piata, satisfacand cele mai exigente cerinte din zona HIGH-END.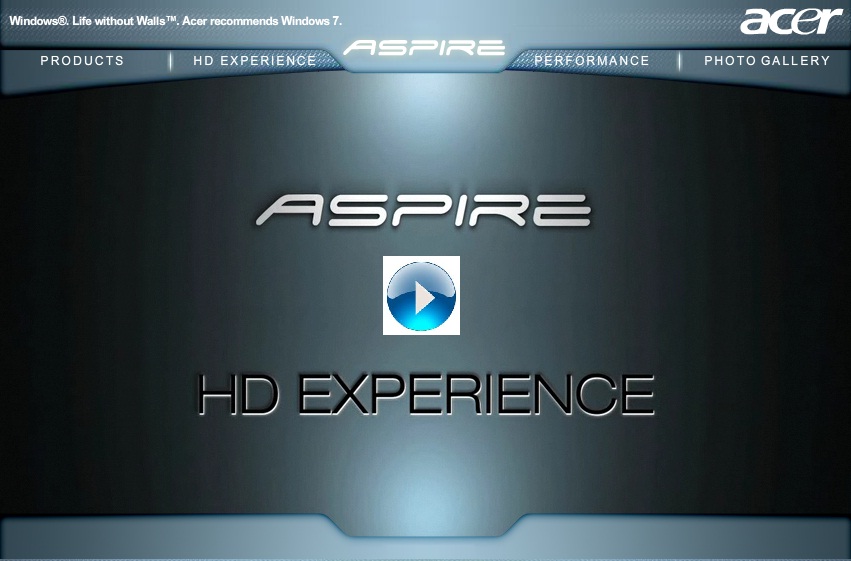 Notebook Aspire 5552-P342G32Mnkk
AMD Athlon II Dual-Core X2 P340 (2.20 GHz, 1 MB L2 cache,DDR3 1066 MHz, 25 W)
AMD M880G Chipset
15.6 inch HD 1366 x 768 pixel resolution-TFT LCD
ATI Radeon HD 4250 Graphics with 256 MB
2GB Memory DDR3 1066MHz
HDD 320GB 5.4KS
DVD-Super Multi DL drive
Card Reader 2 in 1-Build in (SD,MMC),1xHDMI
Acer Nplify 802.11b/g/n
6CELL 2.2, Webcam 1.3Mpx, Color-Black, Numeric Keypad
Linux
P/N:LX.R440C.027

Notebook Aspire 5552G-P343G32Mnkk
AMD Athlon II Dual-Core X2 P340 (2.20 GHz, 1 MB L2 cache, DDR3 1066 MHz, 25 W)
AMD M880G Chipset
15.6inch HD 1366 x 768 pixel resolution-TFT LCD
ATI Mobility Radeon HD 5470 with 512 MB of dedicated DDR3 VRAM
3GB (2GB+1GB)Memory DDR3 1066MHz
HDD 320GB 5.4KS
DVD-Super Multi DL drive
Card Reader 2 in 1-Build in (SD,MMC),1xHDMI
Acer Nplify 802.11b/g/n
6CELL 2.2, Webcam 1.3Mpx, Color-Black, Numeric Keypad
Linux
P/N:LX.R4S0C.004

Notebook Aspire 5552G-P543G50Mnkk
AMD Turion II Dual-Core X2 P540 (2.40 GHz, 2 MB L2 cache, DDR3 1066 MHz, 25 W)
AMD M880G Chipset
15.6inch HD 1366 x 768 pixel resolution-TFT LCD
ATI Mobility Radeon HD 4570 – 512MB-DDR3 (64*16*4)
3GB (2GB + 1GB) Memory DDR3 1066MHz
HDD 500GB 5.4KS
DVD-Super Multi DL drive
Card Reader 2 in 1-Build in (SD,MMC),1xHDMI
Acer Nplify 802.11b/g/n
6CELL 2.2, Webcam 1.3Mpx, Color-Black, Numeric Keypad
Linux
P/N:LX.R4S0C.014


Notebook Aspire 5552-N354G50Mnkk
AMD Athlon II Dual-Core X2 N350 (2.40 GHz, 1 MB L2 cache, DDR3 1066 MHz, 35 W)
AMD M880G Chipset
15.6inch HD 1366 x 768 pixel resolution-TFT LCD
ATI Radeon HD 4250 Graphics with 256 MB
4GB (2GB + 2GB) Memory DDR3 1066MHz
HDD 500GB 5.4KS
DVD-Super Multi DL drive
Card Reader 2 in 1-Build in (SD,MMC),1xHDMI
Acer Nplify 802.11b/g/n
6CELL 2.2, Webcam 1.3Mpx, Color-Black, Numeric Keypad
Linux
P/N: LX.R440C.035

Notebook Aspire 5552-N834G50Mnkk
AMD Phenom II Triple-Core X3 N830 (2.10 GHz, 1.5 MB L2 cache,1333 MHz FSB, 35 W), AMD M880G Chipset
15.6inch HD 1366 x 768 pixel resolution-TFT LCD
ATI Radeon HD 4250 Graphics with 256 MB
4GB (2GB + 2GB) Memory DDR3 1066MHz
HDD 500GB 5.4KS
DVD-Super Multi DL drive
Card Reader 2 in 1-Build in (SD,MMC),1xHDMI
Acer Nplify 802.11b/g/n
6CELL 2.2, Webcam 1.3Mpx, Color-Black, Numeric Keypad
Linux
P/N:LX.R440C.034


Notebook Aspire 5552G-N834G64Mnkk
AMD Phenom II Triple-Core X3 N830 (2.10 GHz, 1.5 MB L2 cache,1333 MHz FSB, 35 W), AMD M880G Chipset
15.6inch HD 1366 x 768 pixel resolution-TFT LCD
ATI Mobility Radeon HD 4570 – 512MB-DDR3 (64*16*4)
4GB (2GB + 2GB) Memory DDR3 1066MHz
HDD 640GB 5.4KS
DVD-Super Multi DL drive
Card Reader 2 in 1-Build in (SD,MMC),1xHDMI
Acer Nplify 802.11b/g/n
6CELL 2.2, Webcam 1.3Mpx, Color-Black, Numeric Keypad
Linux
P/N:LX.R4S0C.013


Notebook Aspire 5552G-N833G50Mnkk
AMD Phenom II Triple-Core X3 N830 (2.10 GHz, 1.5 MB L2 cache,1333 MHz FSB, 35 W), AMD M880G Chipset
15.6inch HD 1366 x 768 pixel resolution-TFT LCD
ATI Mobility Radeon HD 5650 1GB – DDR3 (64*16*8)
3GB (2GB + 1GB) Memory DDR3 1066MHz
HDD 500GB 5.4KS
DVD-Super Multi DL drive
Card Reader 2 in 1-Build in (SD,MMC),1xHDMI
Acer Nplify 802.11b/g/n
6CELL 2.2, Webcam 1.3Mpx, Color-Black, Numeric Keypad
Linux
P/N:LX.R430C.008


Notebook Aspire 5553G-N934G50Mnks
AMD Phenom II Quad-Core X4 N930 (2 GHz, 2 MB L2 cache, 1333 MHz FSB, 35 W),
AMD M880G Chipset
15.6inch HD 1366 x 768 pixel resolution-TFT LCD
ATI Mobility Radeon HD 5650 2GB – DDR3 (128*16*8)
4GB (2GB + 2GB) Memory DDR3 1066MHz
HDD 500GB 5.4KS
DVD-Super Multi DL drive
Card Reader 5 in 1-Build in (SD , MMC, MS, MS PRO, xD)
Acer Nplify 802.11b/g/n
HDMI port with HDCP support
6CELL2.2, Webcam 1.3Mpx, Color Black -Silver, Numeric Keypad
Linux
P/N:LX.R6K0C.004


Notebook Aspire 5552G-N934G50Mnkk
AMD Phenom II Quad-Core X4 N930 (2 GHz, 2 MB L2 cache, 1333 MHz FSB, 35 W),
AMD M880G Chipset
15.6inch HD 1366 x 768 pixel resolution-TFT LCD
ATI Mobility Radeon HD 5650 1GB – DDR3 (64*16*8)
4GB (2GB + 2GB) Memory DDR3 1066MHz
HDD 500GB 5.4KS
DVD-Super Multi DL drive
Card Reader 2 in 1-Build in (SD,MMC),1xHDMI
Acer Nplify 802.11b/g/n
6CELL 2.2, Webcam 1.3Mpx, Color-Black, Numeric Keypad
Linux
P/N:LX.R430C.007


Notebook Aspire 7551G-N834G50Mnkk
AMD Phenom II Triple-Core X3 N830 (2.10 GHz, 1.5 MB L2 cache,1333 MHz FSB, 35 W), AMD M880G Chipset
17.3inch HD+ 1600 x 900 pixel resolution, high-brightness (220-nit) Acer CineCrystal LED-backlit TFT LCD
ATI Mobility Radeon HD 5650 1GB – DDR3 (64*16*8)
4GB (2GB + 2GB) Memory DDR3 1066MHz
HDD 500GB 5.4KS
8X DVD-Super Multi double-layer drive
Card Reader 5 in 1-Build in (SD , MMC, MS, MS PRO, xD)
Acer Nplify 802.11b/g/n,HDMI port with HDCP support
6CELL2.2, Webcam 1.3Mpx
Audio -Two built-in Acer 3DSonic stereo speakers
Color-Black, Numeric Keypad
Linux
P/N:LX.PXF0C.002


Notebook Aspire 7552G-N834G50Mnkk
AMD Phenom II Triple-Core X3 N830 (2.10 GHz, 1.5 MB L2 cache,1333 MHz FSB, 35 W), AMD M880G Chipset
HD+ 17.3inch (1600 x 900) high-brightness (220-nit) TFT LCD 16:9 aspect ratio
ATI Mobility Radeon HD 5650 2GB – DDR3 (128*16*8)
4GB (2GB + 2GB) Memory DDR3 1066MHz
HDD 500GB 5.4KS
8X DVD-Super Multi double-layer drive
Card Reader 5 in 1-Build in (SD , MMC, MS, MS PRO, xD)
Acer Nplify 802.11b/g/n,HDMI port with HDCP support
6CELL2.2, Webcam 1.3Mpx
Audio -Two built-in Acer 3DSonic stereo speakers
Color-Black, Numeric Keypad
Linux
P/N:LX.R6C0C.002


Notebook Aspire 7552G-N934G50Mnkk
AMD Phenom II Quad-Core X4 N930 (2 GHz, 2 MB L2 cache, 1333 MHz FSB, 35 W),
AMD M880G Chipset
HD+ 17.3inch (1600 x 900) high-brightness (220-nit) TFT LCD 16:9 aspect ratio
ATI Mobility Radeon HD 5650 2GB – DDR3 (128*16*8)
4GB (2GB + 2GB) Memory DDR3 1066MHz
HDD 500GB 5.4KS
8X DVD-Super Multi double-layer drive
Card Reader 5 in 1-Build in (SD , MMC, MS, MS PRO, xD)
Acer Nplify 802.11b/g/n,HDMI port with HDCP support
6CELL2.2, Webcam 1.3Mpx
Audio -Two built-in Acer 3DSonic stereo speakers
Color-Black, Numeric Keypad
Linux
P/N:LX.R6C0C.003