BUY ONLINE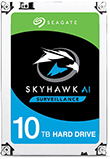 Seagate introduce o extensie de 10TB la portofoliul SkyHawk ™ AI. Disponibil din aprilie 2019, SkyHawk ™ AI este singurul sistem mondial de supraveghere a inteligenței artificiale (AI). Aflati mai multe detalii:
– datasheet.
Un mix de capacități pentru portofoliile Seagate SkyHawk și SkyHawk AI a fost modificat pentru a oferi produsele SkyHawk în gama 1-8TB și produsele SkyHawk AI din gama 8-14TB. Acest lucru se datorează în mare măsură faptului că, dincolo de 8TB, cerințele privind volumul de lucru sunt în evoluție. SkyHawk AI este construit special pentru astfel de sarcini. Configurațiile recomandate de înlocuire sunt configurațiile de transport SkyHawk AI:
Optimizate pentru DVR-uri și NVR-uri, dispozitivele de supraveghere SkyHawk și SkyHawk AI sunt reglate pentru încărcări de 24 × 7 în capacități de până la 14TB. Echipate cu firmware-ul îmbunătățit ImagePerfect și software-ul de monitorizare a drive-ului SkyHawk Health Management, hard disk-urile SkyHawk ajută la minimizarea cadrelor și a downtime-urilor scăzute, cu un volum de lucru de până la 9 × cel al unei unități desktop – până la 550TB / an. Aparatele SkyHawk AI suportă simultan până la 64 de camere HD și 32 de fluxuri AI.
See clearly
24×7 CLEAR STREAMING

Improve reliability by up to 30% over traditional desktop drives with surveillance-optimized firmware.

BUILT TOUGHER

Rely on 9× the workload rating of desktop drives—up to 550TB/year.

SKYHAW HEALTH
MANAGEMENT (SHM)

Improve overall reliability when your SV system is populated with SkyHawk drives and SHM.

2-YEAR DATA RECOVERY PLAN

Defy user error, data corruption, fire, and flood damage with optional 2-year data recovery plans.
Design for performance and reliability
BUILT FOR SURVEILLANCE

Built for home and SMB surveillance, SkyHawk handles all your video data backup and streaming needs.

HEAVY WORKLOADS?NO PROBLEM.

SkyHawk drives are not typical drives. They support heavy surveillance workloads by design.

SMOOTH VIDEO – ALWAYS

ImagePerfect firmware is surveillance-optimized and equipped with Acutrac technology for vibration tolerance to ensure perfect video integrity.

TAKE THE LONG VIEW

SkyHawk Health Management monitors and analyzes drive health, offering options on how to improve performance.
To sharpen your knowledge about Seagate SkyHawk, please join SEAGATE CHAMPIONS MASTER TRACK course series that examine industry trends and show how specific features and offerings provide advantages to customers.

Take the Track Exam after completion to earn your certification:
To order Seagate SkyHawk and SkyHawk AI HDD please contact your ASBIS sales manager.