Ladies and Gentlemen,
We are delighted to invite you to a regular meeting presenting Dell's latest products and solutions based on the technologies by Intel™ and Microsoft™.

What changes have been introduced to the technologies offered by our companies?
How does Dell PowerEdge VRTX allows "hiding" a Data Center under the desk?
Will "touch" outdo the traditional mouse and keyboard?
Who will Latitude E3000 and E7000 fit and how are they different from their predecessors, E5000 and E6000?
Why is there something more than just devices when planning and purchasing IT solutions?
How can modern organisations benefit from the new solutions for optimizing activities of their businesses and stimulating their growth?
Windows 8.1. Does the "1" really matter?
You will find answers to these and many questions during our meetings which, at the same time, will be an excellent opportunity to take a look at the rich array of Dell's newest solutions and talk with the professionals.
See you at your most convenient times and venues
We very much hope to meet you there.
Best regards,
Dragos Mateescu
Dell Regional Director SEE
The conference is free from any fees.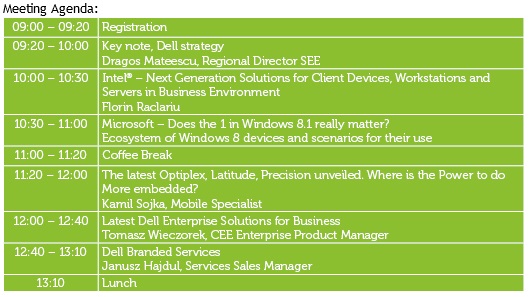 ©2013 Dell™ and the Dell logo are registered trademarks and trademarks of Dell Inc. Intel and Intel logo are registered trademarks of Intel Corporation or its affiliates in USA or other countries. Microsoft and MS are trademarks or registered trademarks of Microsoft Corporation. Dell disclaims proprietary interest in the trademarks or trade names of other entities.